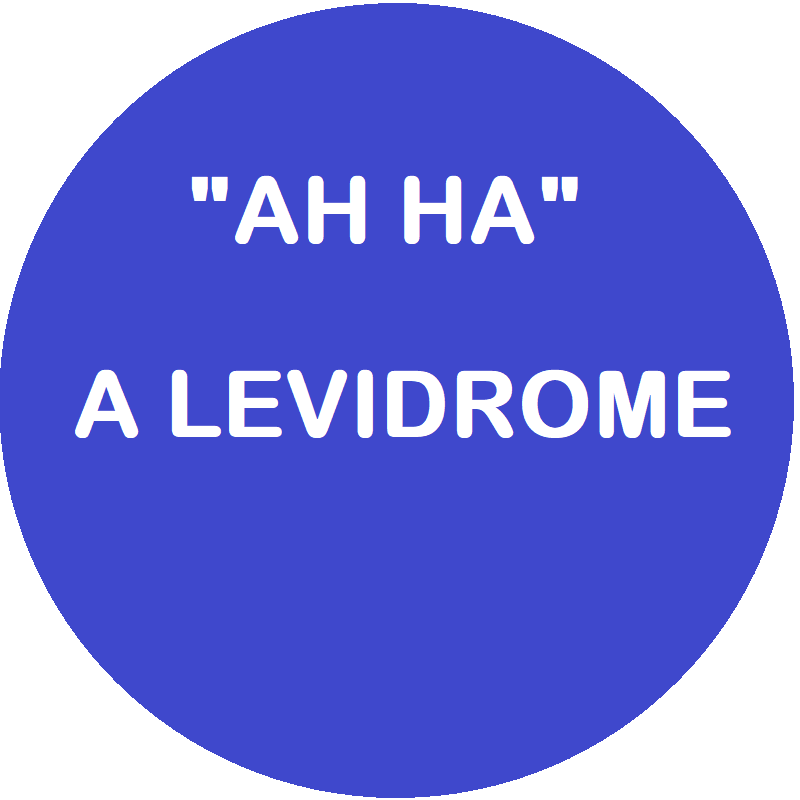 Have you ever had an "AH HA!" moment? The moment when the light bulb goes on? The moment or instant at which the solution to a problem or other significant realization becomes clear. Sudden insight. Well, that was a levidrome moment.

You see, "ah" is a levidrome of "ha". Short. Sweet. To the point. In fact, it is our favourite levidromic pair. There aren't many levidrome pairs which can stand out in a sentence on their own. "AH HA" is one of them. To give them proper emphasis, it is recommended to capitalized both words, and maybe surrounding them in quotes.

Now, you may be thinking, "AH HA" should actually be spelled "aha". And you know what...you're right! There is the "aha moment". Although aha has been around for years, it was only added to the Merriam-Webster Dictionary a mere 6 years ago, with respect to the definition of an "aha moment". In 2012, largely thanks to Oprah Winfrey's use of the phrase, "Aha moment" made it into the dictionary. Aha was formed by combining the two words "Ah" and "Ha".

Ironically a pair of levidromes gave birth to a palindrome. AH + HA = AHA.

If Oprah can get a word into the dictionary, so can we. One interesting bit of information is Oprah had also created a levidrome of her own. "Oprah" spelled backwards is "Harpo". Harpo Productions is the multimedia production company founded by Oprah.

Hmmm, if we could only get Oprah on board, levidrome would be a shoe in.
---